Moodbidri: The Annual Day of Mangalore Institute of Technology and Engineering, (MITE) Moodabidri was celebrated on the 17th April evening at its glittering Campus in Moodabidri. Parameswaran B, Director - Operations, Toyota Industries Engine India Pvt Ltd, Bengaluru was the Chief Guest for the Program. In his address to the students, Parameswaran spoke about the importance of continuous Learning and focus on Holistic Development. He gave the examples of the Toyota Engine and Car Development process and emphasized on the meticulous way of managing things and the importance of supply chain Management. One should learn for the future, and not rest on the laurels of the past. Engineers should be problem solvers and not just look at theoretical studies.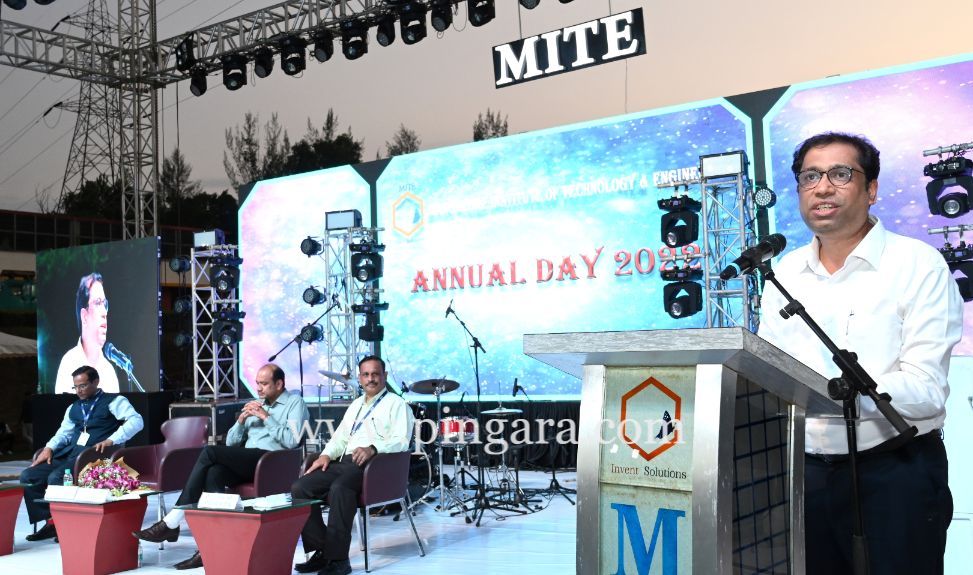 Parameswaran spoke about the major challenge of De-skilling and Re-skilling in the new era of Technology Revolution. He cited the examples of the Japanese way of Operating protocols in every Industries and the meticulous way in which it is handled. He stressed on the importance of learning inter disciplinary concepts as the Industry looks at multi faceted engineers and Managers. He also urged the Students to start thinking on how they can contribute to the Society, Organizations and to the Industries. 
Rajesh Chowta, President, Rajalaxmi Education Trust (R), Mangalore presided over the function. In his presidential address, Rajesh Chowta congratulated the Academic Toppers for their Best academic performance. He advised the students to look beyond academics, Reskill and learn New Technologies. He also urged the Students to be Innovative, and develop innovative solutions. He also emphasized on learning leadership, Organizing capabilities and managing skills through the Annual Fest Sentia. 
Dr. M S Ganesha Prasad, Principal presented a brief Annual report of the College highlighting the Achievements and Accolades of the Institute-  MITE securing A+ Rating in NAAC, Excellent Band in ARIIA, Platinum Rating in AICTE-CII Rating and the Top 5 University Ranks in 2021. Mr. Narendra U P, Dean (T&P) welcomed the gathering. Dr. Jayashri Shetty, Faculty of MBA proposed the vote of thanks. Yash Jogi compeered the program. The formal program was followed with the students of MITE giving a colorful cultural program.